Mornings aren't as bright these days at Stork's Bakery & Coffee House, as the employees and regulars mourn the loss of Daniel Gonzalez.
He passed away March 15 after a five-month battle with lymphoma (lymphatic cancer). Roger, his husband and partner of 19 years was at his side when he passed. He had been off work receiving chemotherapy since October.
Gonzalez had been the friendly face helping people start their day since joining Stork's in 2013. Five or six days a week, he would show up at 5:15 a.m. to open the store and greet his loyal customers and new faces.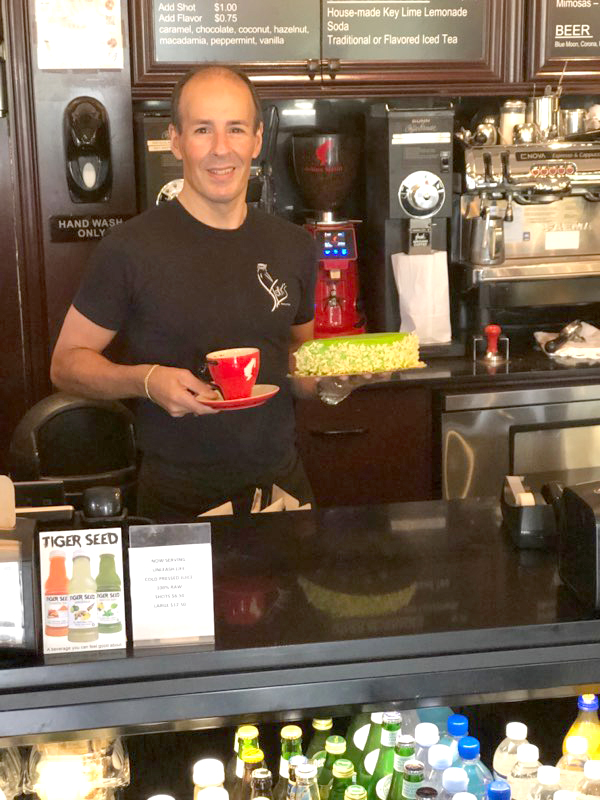 Daniel Gonzalez serving up smiles at Stork's Bakery.
The staff at Stork's wants to thank each and every one of our customers for their prayers, thoughts and concern throughout Daniel's illness, as well as the much needed financial support, which was provided through our GoFundMe campaign.
Daniel, we love you and miss you!
Stork's posted a tribute to Gonzalez on Facebook saying he did more than pour coffee and make sandwiches, he also became a friend to people passing through the doors.
"Through the years, he built a rapport and friendship with so many of our loyal patrons, typically sharing stories about his much-treasured annual vacation trips with Roger, as well as their two beloved dogs," the company wrote.
His friendliness was matched only by his skill. In 2019 and 2020, Gonzalez won Best Barista in SFGN's Best Of contest. When he first won in 2019, Gonzalez told SFGN that the job is "…about patience, listening, and understanding." He would work with customers to create special orders that weren't on the menu, and said a kind word from them such as "Daniel, thank you, the sandwich was great," made it all worthwhile.
"Friendly, reliable, dependable, knew Stork's products and kept the line down! Eight years of service at Stork's with smiles, speed and humor," Joe Grano commented on Facebook. "Before that an Argentine Attorney. His loss is so sad. So young. My deepest condolences to Roger for the loss of his dear, life-long companion. Let us keep them in our thoughts."
This article originally featured in SFGN.