Congratulations to STORK's, who, for the third time in three years, took home three awards in SFGN's Best of 2021 issue. They were awarded the Best Coffeeshop award, the Best Dessert award, as well as the Best Barista award. It is quite good to be nominated and win these categories once, but to be nominated and win three years in a row, is an amazing honor that the staff at STORK's would like to thank the entire community.
If SFGN had a Best Customers category, the winners would be STORK's customers. Thank you again for your continued patronage and votes.
The following are excerpts from SFGN:
Best Dessert/Best Coffeeshop: Stork's
There's an old saying, "Life is uncertain, eat dessert first." If that's true, we'll all be lined up at Stork's chosen best dessert for the eighth year in a row. Whether it's an elegant cake, a slice of pie, or a chewy cookie, you can't go wrong at Storks.  
Stork's has been a staple in the community since opening in 1997. Like most businesses though, they faced challenges last year due to shutdowns and restrictions. But unlike some places, they were able to remain open, which allowed them to keep all of their staff employed.
"We offer so much more than a coffee shop, including homemade cakes, pies, pastries and cookies; soups, salads and sandwiches, full breakfast menu, breakfast sandwiches pastries; delicious prepared foods, and professional catering," said Pasquale Rizzo, catering manager. 
Their individual-sized tarts are especially popular. Check out the Fresh Fruit Tarts, the award-winning Lemon White Chocolate Mousse Tarts, and their Red Velvet Oreo Cheesecake Tart.
"All this, and we're open from early morning to midnight every day of the week," he said.
One of their barista's took the top prize for Best Barista this year as well.  
Best Barista: Harlie D. at Storks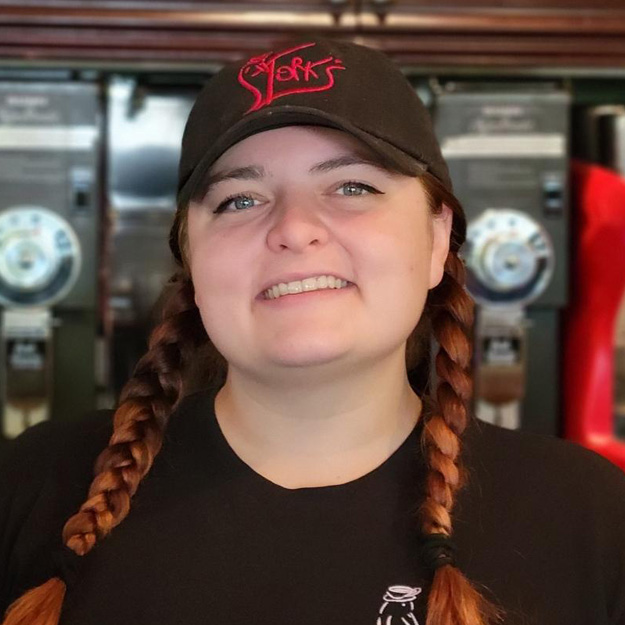 For the first time ever, Harlie at Stork's Bakery has won Best Barista.
Stork's has been in Wilton Manors since 1997 and is a favorite to locals. Harlie has been with Stork's for four years.
"When she's not giving excellent service to our customers, she is entertaining them with her beautiful singing voice, as she sings along to whatever music is playing through the sound system," said Pasquale Rizzo, Catering Manager.
According to Rizzo, Harlie said she just always tries to "keep a smile," when it comes to interacting with customers.
"She always makes an effort to provide personal and thorough customer service," Rizzo said.  In fact, she makes a point to address all of our regular customers by name."